Long awaited silence broken; reason and logic to finally find its way through "modern means of communications"?
First Posted: 4:13 p.m. EDT, Friday, March 23, 2007
Manila - March 21, 2007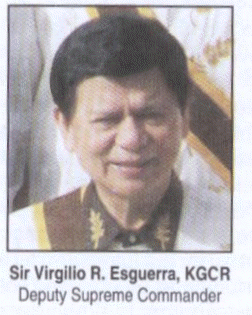 After what seemed like forever, acting Supreme Commander Sir Virgilio Esguerra has come out into the open and acknowledged the need to "address our concerns and provide settlements of the same at the earliest time possible", in obvious reference to the turmoil that has beset the fraternal organization of late. The unprecedented and most welcome gesture was a memo sent via email. Sir Esguerra did not elaborate what those specific concerns are and did not give any hint as to a timeframe for their "settlement".
The dramatic development, resulting from persistent pleas from numerous brother knights to the Supreme Council mostly sent through the internet for attention over serious issues in three foreign regions - Canada, Europe and the Middle East/Africa - is expected to quell the exodus of longtime members and to dampen a looming threat of a major breakup. Reactions to the announcement is expected to be mixed. (KOR News will post those reactions in these pages and will monitor any progress made by the Esguerra initiative. Ed)
The following is the full text of the memo:
21 March 2007

MEMORANDUM
No. 001 S. 2007

TO: ALL CONCERNED BROTHER – KNIGHTS

SUBJECT: SOBRIETY AND CALMNESS
_______________________________________________________________

This is an appeal to all brother-knights here in the Philippines and abroad to refrain from issuing incendiary statements or insolent language pertaining to some issues and concerns in our Order. Such statements may only cause disunity or havoc in the KOR as this is never the intention of our Knights and officers. In this point in time of the KOR history, after a four-year old conflict in the Supreme Council, we have now an active, vibrant, and productive organization. The 15th International Assembly held in Jersey City, USA in September 2006 and the 16th International Assembly in Manila, held this February 2007 were activities worth pondering. There is no perfect system or institution. The Knights of Rizal has its own strengths and weaknesses, too. As we appeal for sobriety and calmness in the Order, let us address our concerns and provide settlements of the same at the earliest time possible.

As each one of us is offering solutions to our problems, let us always bear in mind the ideas and wisdom of Rizal which we have been propagating to the world and to all people. Let us sit down and talk…….and if by distant shores we can't, let us do it by the modern means of communication.

The undersigned wishes to inform our brother-knights that he has just assumed the position by virtue of the appointment of our Supreme Commander, Sir Justice Hilario G. Davide, Jr., KGCR, as permanent Philippine Representative to United Nations.

Non Omnis Moriar.

Fraternally yours,

SIR VIRGILIO R. ESGUERRA, KGCR
Acting Supreme Commander


Cc:
Supreme Council
Council of the Elders

Reaction
Memo draws swift and strong criticism from "Rizalist" Sir Peter Eisele
Posted: 10:27 a.m. EDT, Saturday, March 24, 2007
Reform advocate Sir Peter Eisele of Gernany wasted no time to post his candid reaction to the published memorandum from Sir Virgilio Esguerra issued March 21, 2007. Sir Peter emailed the following to the editor:
"At the very beginning of his [Sir Esguerra's] memorandum he asks for 'SOBRIETY AND CALMNESS' by attacking members for 'incendiary statements' or 'insolent language' thus mistaking reasons and consequences.
'Incendiary' and 'insolent' are not the statements or the language of the members, incendiary and insolent was and still is the acting of the Supreme Council in Manila, now represented by Sir Esguerra, and the cause for disunity and havoc is the treatment of the members like in this MEMORANDUM No. 001 S. 2007 as of March 21st, 2007.

TO ASK FOR SOBRIETY AND CALMNESS AND AT THE SAME TIME ATTACKING MEMBERS IS NOTHING BUT PRETENDING !

To call the 16th International Assembly in Manila, held this February 2007 an 'activities worth pondering' is contradictory to the statements of Sirs Francois from Belgium, Klaus Hartung, the former European Commander and others, who did not attend at all for the same reasons - waste of money and time. I am sorry to say too, that I do not see an 'active, vibrant, and productive organization' at all when it comes to the activities rendered by Manila.

As Sir Jun Zerrudo indicated in his news report, the fact that Sir Esguerra did not elaborate any specifications of 'our concerns' and the 'earliest time possible' does not give any security or at least a timeframe to the members.

EMPTY FLOWERY PHRASES JUST MEANS TO PUT OFF THE MEMBERS UNTIL THE COWS COME HOME !

It must have been more than 15 years now, that I sent my first mails to 'distant shores', but ever since I became a member of the OKOR in 2003, I did not even get 10 mails from the Headquarters in Manila, although many times I asked to be added to the mail distribution list. The "modern means of communication" have not been invented today as Sir Esguerra seems to express. He never dared to answer any of the mails concerning all the matters in Canada, Middle East and Europe which he provably got before. Why should he do now ?

Last but not least I will not only bear the ideas and wisdom of Rizal in my mind, but as a Rizalist I will always remember his sharp pen too. And he did not refrain from any 'illustrious' or 'supreme' people as 'Men are born equal, naked and without chains, they were not created by God to be enslaved, neither were they endowed with intelligence in order to be misled, nor adorned with reason to be fooled by others, It is not pride to refuse to worship a fellow man, to enlighten the mind, and to reason out everything. The arrogant one is he who wants to be worshipped, who misleads others, and who wants his will to prevail over reason and justice.' (Dr. José Rizal - Message to the women of Malolos, Europe, February 1889)"

Sir Eisele, in his efforts to keep the cause alive among discontented members particularly those who have already resigned, is spearheading the establishment of an alternative organization called "La Liga Solidaridad International - The Rizalists".